Vale
Ken Mc Master
It is with great sadness we announce the passing of Ken Mc Master on 15th May 2018.
Ken has been the driving force of this great Festival for nearly 40 years but fear not. His legacy will live on.
The Funeral Service will be held on Monday 21st May at the Fairfield Boathouse at 2.30pm . Bring your instruments and bad jokes.

THE KIWIS ARE COMING-THIS YEAR WE FEATURE MUSICIANS FROM ACROSS THE DITCH.
THE SQIRRELLY BILLS
- Liam McKenny, Abie Horrocks , Naomi Middleton & Johnno Hopley
DON MILNE - Old time banjo player (& maker}
RICHARD KLEIN - Cajun fiddler extraordinaire
STRING BAND, BLUEGRASS, OLD TIMEY, CAJUN,
COUNTRY BLUES, HAWAIIAN, JUG, FOLK,
AUSTRALIAN HILLBILLY, TRADITIONAL ROOTS MUSIC
CONCERTS, DANCES, WORKSHOPS INSTRUMENT MAKERS' DISPLAYS
VOLUNTEERS GREATLY APPRECIATED,
THURSDAY TO MONDAY.
FREE PASSES FOR THE MOST ENTHUSIASTIC VOLUNTEERS
CONTACT MAX AMOS

The usual suspects. Yarra Junction stage, 2009. Cajun dance band.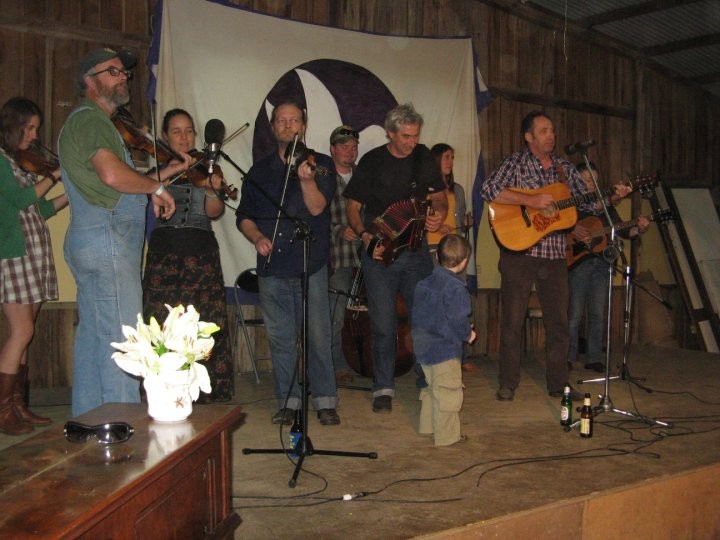 The Yarra Junction Fiddlers' Convention is Australasia's biggest and oldest running festival/party for players of bluegrass, string band, old timey, good timey, cajun music and their friends and relations.
It is not just about fiddles, but as Gid Tanner said,"the fiddle drives the band". (That's him on the right, above the next few pages, with the rest of the Skillet Lickers, in 1934.)
Banjos, guitars, bass, mandolins, dobros, autoharps and even Cajun accordians get a look in too - but no electric instruments (sorry Richard), and no drums. Concertinas and mouth-harps? Of course. And lots of dancing.
Check us out on youtube- lots of good videos