PROGRAM
IF YOU WISH TO PERFORM,10 MINUTE BLACKBOARD SPOTS ARE STILL AVAILABLE
THURSDAY
Gates open for early bird campers from 2.00 pm. Please do not come before this, as we need to get things ready (including marking out roadways through camping areas) before you arrive. Please note- there is a $10 extra charge for Thursday.
FRIDAY
Meet your friends, settle in, sessions (Nothing happens!!)
SATURDAY
WORKSHOPS:
10.00: Beginners slow "how to" jam (Maggie Duncan & Norm Adams) BBQ
10.00: Irish Fiddle ( Nicola Strating) Kitchen
10.00: Bluegrass Banjo (Jim Golding) Rec Hut
10.00: Bluegrass Fiddle (Andrew Clermont) Big Hall
11.00: Metis Fiddle - Canadian French / Native American - (Jesse Hull - Canada/ Aust.) BBQ
11.00: Bluegrass Mandolin (Nick Dear) Big Hall
11.00: Flatpick Guitar (Kevin Parcell) Kitchen
11.00: Old Time Banjo - music from two plantations (Don Milne - NZ) Rec Hut
12.00: Beginners Old Time Fiddle (Liam McKenny - NZ) Rec Hut
12.00 : Old Time & Early Bluegrass Harmony Singing (Rod & Judy Jones) Kitchen
12.00: Gum leaf playing - leaves supplied (Jeff Wilmott) BBQ
BLACKBOARD CONCERT: 12.00 Big Hall
See Alan Lazarus & Gerry Gunn by the stage from 11.30 for a spot - get in quick!
AFTERNOON CONCERT Big Hall
1.30: Skip Sail
1.50: Honeyfields
2.15: Chilli Strings
2.40: The Weathered Heads
3.05: Geoff Hollings
3.25: The Squirrelly Bills (NZ)
3.50: Hardrive
4.15: Slim Dime
4.35: Wiata Pakeha
4.55: Cat and Clint
5.20: The Undertones
5.45.: Backwater Bluegrass Band
6.10: Flying Engine String Band

CAJUN DANCE /CONCERT Big Hall
6.40: Gob Iron String Band
7.05: Le Blanc Brothers Cajun Band (with Richard Klein - NZ/USA)
OLD TIMEY DANCE Big Hall
7.35: Yarra Junction Old-Timey Monster Big Band
LATE NIGHT EXTRAVAGANZA Big Hall
10.30: Mysterious Mose
11.00: Momma's Mountain Jug Band
11.30: Mick Coates and His Acquaintances

SUNDAY
10.00 : GREAT BIG HARMONY SINGING SESSION (Led by Gail Horsley) Big Hall
WORKSHOPS
10.00: Double Bass (Johnno Hopley (NZ) BBQ
10.00: Australian Traditional Fiddle (Alan Musgrove with Rob Stephens) Rec Hut
10.00: Ukulele (Betty France & Cate Jardine) Kitchen
AFTERNOON CONCERT: Big Hall
11.00: Angie and the Doc
11.20: My-T-Fine String Band
11.45: Nick Dear and The Lyonville Ramblers
12.10: Don Milne (NZ)
12.30: High Times String Band
12.55:The Pie Eaters
1.15: Savannah Rose
1.40: Cuck's Bounty (UK)
2.05: John Boothroyd
2.25: Lauren-Lea Williams & Kenny Joe Blake
2.50: BLACKBOARD CONCERT: Big Hall
See Alan Lazarus or Gerry Gunn near the stage for a spot from 2.30 - get in early
3.00: GUITAR TOSSING: meet on the grass, right side of the hall. Tossers of all ages welcome.
Winner gets to keep what remains of the guitar, and have their name recorded on the perpetual trophy
Followed by the all night party in the kitchen
You are welcome to stay Sunday night, but you must
have your camp packed ready to go by 11.30 Monday.
Watch the website if bushfires are likely to be a problem and
we have to change the date or venue at the last minute !!!
Weather looks good for this year, with little bush-fire risk.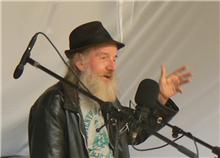 Uncle John Caldwell, our erratically jovial MC, resigned after 34 years. He says he is too old and sore to drive long distances, and he doesn't feel particularly sociable. Gerry Gunn and Alan Lazarus have taken over, and have foolishly agreed to continue. Not as exciting, but better organised!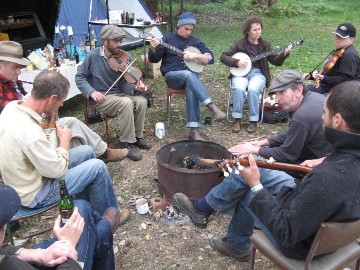 The usual suspects happily sessioning away, apparently unaware that their fire has gone out.